5 Types of Content Moderation to Protect Your Brand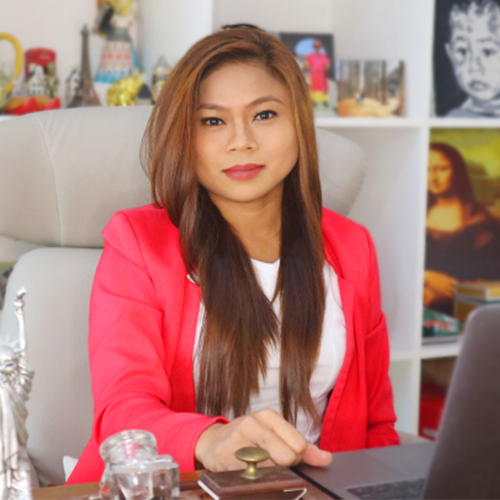 Director of Global Sales and Marketing
Do you know that the easiest way for your brand to lose its credibility happens with a single click or a tap on the screen?
Millions of user-generated content (UGC) gets posted every hour and minute of every day.
It is one of the most influential factors on the internet today. Several variations of UGC carry the risk of harming your brand in more ways than one. Hence, online platform owners and social media managers must ensure each content posted on their platforms will not cause harm to their credibility and online community.
One wrong move will cause your entire marketing plan to fall into shambles. From the toxic comments of trolls to the annoying spam that constantly appears in your comment section, it leaves you to wonder which method are you to use to protect your brand and followers from such harassment?
Fret not, because the answer is in this article.
One of the best courses of action to ensure that every content on your online platform will not work against your brand is by maximizing the benefits of the various types of moderation methods:
Content Moderation: Knowing the Importance is Key
Let us take a look at the importance of content moderation against UGCs and other harmful content online.
Moderation is the process of maintaining one's online platform by filtering and monitoring various user-generated content to determine whether the content should be published or not based on the platform's specific guidelines and rules. It is your first line of defense when it comes to defending against whichever type of toxic content could destroy the reputation of your brand.
Keep this fact in mind when you think of content moderation: It is not synonymous with censorship. The goal of internet content moderation is to create a safe and organic environment where each user can safely interact with other authentic users that share similar interests with them.
Moderation can be your bread and butter in neutralizing and suppressing content depicting violence, cyberbullying, hate speech, gore, drugs, fraud, and all other forms of suspicious or potentially harmful intent.
The 5 Types of

Content Moderation Techniques: Get To Know The Pros and Cons of Your Strongest Defense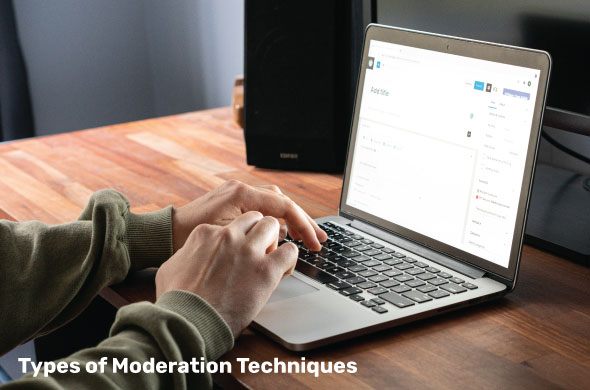 Having an in-depth understanding of the function of these moderation methods allows you to utilize the utmost potential out of their benefits. It also helps you map your decisions on how to handle different circumstances that your online community and platform may encounter daily. From the comments to the photos and videos shared, you are definitely prepared to deal with any type of attack in your community.
Below are the most common and most effective moderation methods that you can use to provide maximum customer experience and protect your brand's reputation more consistently.
1. Pre-Moderation

This is the most common and popular type of moderation method because it dramatically diminishes the chances of members sharing defaming content that can damage your platform. One of the key roles of a content moderator in this process is to proactively moderate user-generated content by reviewing its details under a series of queues before it goes live on your platform. In a nutshell, every type of UGC is screened before your audience sees it. Moderators use specific guidelines for the platform as their standard and basis for which kind of content is permissible on the platform.
Simply put, when a user posts anything, it requires approval from the moderator before it gets posted or is made available for public viewing. It is an excellent and early countermeasure because you have the chance to block incoming harmful content before it wreaks havoc.
On the other hand, pre-moderation also entails specific drawbacks.
One disadvantage of pre-moderation is it "kills" a thread or online discussion abruptly. Comments are not posted in real-time due to moderators checking them for harmful content. This causes a sluggish effect on the pacing of the interactions between your members. Despite this flaw, it still is a powerful moderation tool.
Pre-moderation works best for websites that encourage stronger community protection from illegal schemes and privacy risks. It also works well with communities where child protection, confidentiality, and maintaining the integrity of high-profile personalities and celebrities are paramount.
2. Post-Moderation

Compared to pre-moderation, post-moderation focuses on checking content after it is posted or uploaded. It promotes a continuous flow of conversation. On the other hand, it puts community members at risk, especially when a troll enters the picture and their distasteful comment is not moderated on the spot. 
When it comes to advantages, post-moderation paves the way for excellent opportunities for your users to interact without interruptions. The content goes live on your website upon clicking on the call-to-action button.
The method is most commonly used on social media platforms. As stated earlier, while it can be a great way to keep threads and discussions alive longer, moderators should act as quickly as possible before too much content goes live. Quick reviews of incoming content allow them to control and minimize the influx of damaging posts and comments on your website or social media platform.
3. Reactive Moderation

As the name suggests, reactive moderation highly depends on how active and reliable your audience is at reporting and flagging inappropriate content. The process helps test the moral compass of your community members. 
Users are entrusted to flag content that they think is abusive, defaming, or offensive by clicking on report buttons present in your platform. They can do this by clicking the "flag" icon found in the upper right corner of the post or discussion thread.
The core benefit of this type of moderation method is it offers a cost-efficient moderation system. As your community gains more members, it means that your moderators also get more help in policing prohibited UGC.
Similar to its counterparts, reactive moderation also has its flaws. One example is that since your users have full control over whether content should be reported or not, they tend to limit the boundaries of their moderation practices to which content benefits them the most. Worst-case scenario? Most of the content that potentially threatens and compromises your revenue will be overlooked and cost you your brand's reputation.
Another disadvantage is reactive moderation takes longer than the other moderation methods as it requires content to go live first and then be read or seen by users before they can send in their reports. It bears a strong resemblance to post-moderation; albeit, with post-mod, the moderator is in charge of banning the toxic content.
Generally, relying on the outlook of the community is vital in getting rid of inappropriate content without compromising the timeliness of interactions. The best way to maximize its benefits is to use it with caution. Reactive moderation should be utilized in conjunction with other moderation methods to get the best results possible. After all, collaboration is key to a harmonious online community.
4. Distributed Moderation

Think of this method as a combination of Post-Moderation and Reactive Moderation. It is the kind that relies heavily on crowdsourcing. The moderator implements a polling or rating system where community members can rate posted content. When the results are summed up, content voted as harmful by the majority of the community is then flagged and banned from the platform.
Basically, the visibility of the content solely depends on how high or how low the votes are. Posts ending up with the lowest votes are removed. This method is mostly dependent on the active participation of community members.
It might take a significant amount of time before it becomes fully successful. One way to fix this is to ensure the guidelines are also posted on your respective platforms for members to vote wisely on restricting content.
To make this as effective as possible, site owners should try to incorporate this with other moderation methods like automation or post-moderation. You can also limit the voting privilege by transforming this feature into an exclusive perk for VIP members.
5. Automated Moderation

Dubbed as one of the most sophisticated brand moderation methods available in the industry right now, automated moderation utilizes the advantages of human-powered moderation techniques and incorporates this knowledge into its database. It is the latest and finest predefined moderation tool to recognize and filter inappropriate content almost instantly. 
Although artificial intelligence handles the moderation process in place of humans, it is not nearly perfect. Drawbacks arise when the system fails to recognize complex penalties, and instead allows harmful content to be published and harm the members.
Regardless, automated moderation is still highly considered the real deal since it offers high scalability and efficiency. Not all types of user posts are suitable to be checked by AI alone. Some details require diverse reasoning and deeper interpretation that only humans can do. With automated moderation, it is best to pair it with human moderators to make the best out of it.
That concludes the list of content moderation methods with their strengths and weaknesses. Depending on who your audience or members are, take the time to scrutinize each method individually and choose one for your brand wisely.
Deciding the Best Moderation Just for You
Building an online community can be a great avenue to interact, connect, and build relationships with other users sharing the same niche and interests. The internet can be a perilous place and so you must set up a strong moderation system in place as part of your main responsibilities as a website owner. Moderation allows brands to foster a productive environment where they can meet their followers' demands and expectations. Moderated websites also foster something akin to a safe environment where users can share what is on their minds and be understood by others in a proactive manner.
Finding the perfect fit in a sea of moderation choices depends on your audience and budget. Think of it this way – the suitable option will diminish the possible risks that your online platform may encounter while assisting you in reaching your brand's objectives. In the long run, it also allows you to successfully build a community where you can strengthen rapport with your supporters.
Through this blog, you now know the strengths and weaknesses of each type of moderation. Use this knowledge to calculate how to safeguard your online community against the harsh and dark side of the internet. 
If you are still undecided on which moderation to use, you can start your decision process by comparing available rates. At Chekkee, we offer a vast array of moderation services that are highly scalable to fit our client's brand necessities. We provide cost-effective moderation services that are carried out using both human and artificial intelligence.
We aim to help you maintain your online reputation and image by getting rid of inappropriate content on your website. Want to know more about how moderation can help you build the community of your dreams? Chekkee might be the one you're looking for.
Contact us and protect your community today!